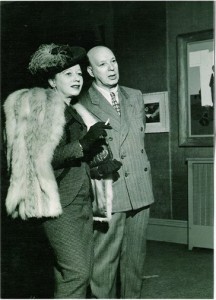 Welcome to the official website of Irene Rice Pereira (1902-1971). I. Rice Pereira, as she was known, was one of the foremost modernist artists of the 20th Century. Her paintings can be found in museums around the world. The purpose of this website is to direct inquirers to her paintings, publications about her, museums and galleries exhibiting her work, archives and relevant websites. One of those sites, www.juanitaguccione.com, is devoted to the painting career of her sister. Correspondence and original appreciations of Irene Rice Pereira's work and life are invited.
June 23, 2015 Comments Off on
Excerpt from the April 30, 2015, New York Times review of the Whitney opening in Manhattan:
The Whitney is palpably a different order of achievement. Art looks better here, to my eyes, than it did in the old Whitney, and it is amazingly comfortable to be in. I didn't understand this fully until last Friday night, my third time inside the building. To cite but a few:  Among the works unfamiliar to me were I. Rice Pereira's "Boat Composite," a large, vivie yet grisaille canvas from 1932 that dominates a gallery of Precisionist paintings and photographs with its bold scale and paint handling, learning from Fernand Léger while presaging the great late works of Stuart Davis and Philip Guston.
"New Whitney Museum Signifies a Changing New York Art Scene," by Roberta Smith
http://www.nytimes.com/2015/05/02/arts/design/new-whitney-museum-signifies-a-changing-new-york-art-scene.html?hpw&rref=arts&action=click&pgtype=Homepage&module=well-region®ion=bottom-well&WT.nav=bottom-well
June 20, 2015 Comments Off on Opening of new Whitney Museum highlights Pereira
This essay about I. Rice Pereira appears in Poul Webb's art blog, Wednesday, June 6, 2012.
June 6, 2012 Comments Off on Poul Webb's art blog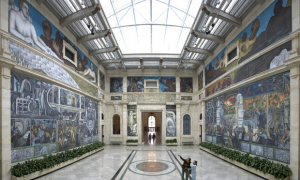 Mid-Century Modernism: Origins and Evolution, a lecture scheduled by the Detroit Institute of Arts at 6:30April 27th, will examine the work of Irene Rice Pereira and several of her peers. By 1955 many American artists, architects, and designers broke free of European precedents and developed distinctively American forms of modernism. Independent curator Susan Larsen looks at mid-twentieth-century painters, showing the ways in which they drew on the progressive political ideals of the 1930s, with a focus on artists represented in the DIA's collection, including Josef Albers, Pereira, Mark Rothko, and Vaclav Vytlacil. Pereira's 1950 oil painting, Bright Beyond, will be featured. The presentation is sponsored by the Associates of the American Wing.
January 13, 2011 Comments Off on Pereira and peers at Detroit Institute
February 3, 2010 Comments Off on Parchment painting in Newark show
Work by Irene Rice Pereira was included in Body, Line, Motion: Selections from the Permanent Collection at the Samuel Dorsky Museum in New Paltz, New York from Jan. 10 to Apr. 11, 2010. The same day the artist was featured in an exhibition in Manhattan at the new Wendt Gallery in the Fuller Bulding at 57th Street and Madison Avenue.The Dorsky exhibition included works depicting human and animal forms that emphasize movement, dance, and ritualistic activity. It was curated by Amy Lipton.
Work by Irene Rice Pereira was included in "Body, Line, Motion: Selections from the Permanent Collection" at the Samuel Dorsky Museum  at the SUNY campus in New Paltz, New York, from Jan. 10 to Apr. 11, 2010. The exhibition, curated by Amy lipton, included works depicting human and animal forms that emphasize movement, dance, and ritualistic activity.
January 30, 2010 Comments Off on Pereira in Dorsky Exhibition
Irene Rice Pereira was uncommonly aware of the culture in which she worked, as an index of the correspondence of the cultural critic Parker Tyler at The New York Public Library shows.The archive contains a letter from Pereira written in 1966. It is contained on page 14 of a pdf file.
Tyler was well known as a champion of the avant-garde in film, art and literature. HIs papers and those of his friend, Charles Boltenhouse, a poet and filmmaker, are available for viewing in the Humanities and Social Sciences Library of the main library.
Pereira wrote frequently to tastemakers and other artists, and so her correspondence is likely to be found in a broad spectrum of archival material. – DM
January 17, 2010 Comments Off on Pereira letter to Parker Tyler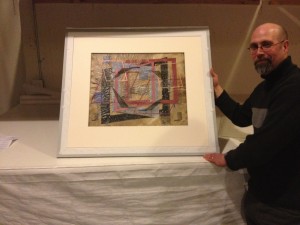 Pereira's Rose Planes, 1945, is one of more than 108,000 images from the AMICA (formerly The Art Museum Image Consortium Library). More than 20 museums participate in this project. Rose Planes is owned by The Walker Art Center in Minneapolis, MN.
December 16, 2009 Comments Off on Online art museum
I. Rice Pereira's third husband, George Reavey, was the first translator into English of Doctor Zhivago, by Boris Pasternak. Reavey, an Irish poet and close friend of the Welsh poet Dylan Thomas, had been Great Britain's cultural attaché in Moscow during World War II.
The Davis Museum and Cultural Center at Welleseley College in Massachusetts is offering a series of podcasts featuring the work of 42 poets and artists, including Thomas, Frank O'Hara, Reavey and the artists Helen Phillips and Willem deKooning.
A portfolio of 21 etchings and poems was published in 1960, 11 years before the death of Pereira. The audio track representing this collaboration features Kristina L. Szilagyi, Class of 200, reading Omega by Reavey. Each print integrates text and image, including a poem in the hand of the author. The Omega print was made by Pereira, an example of close collaboration  between Reavey and Pereira over a long period.
The artist and her husband were present at at the death of Dylan Thomas in November 1953 in Saint Vincent's Hospital in Greenwich Village, only a few blocks from her studio home at 121 West 15th Street in Manhattan.
Reavey, who was fluent in both French and Russian, was a meticulous reader of poetry, his voice reflecting his precisionist inclinations. Pereira's own voice (she was a frequent lecturer) was hushed and musical. She was an even better listener than she was lecturer.
Pereira and Reavey were avid party-givers. Reavey would often break into Russian dances at these parties. Thomas was often their bartender. He was a jolly and mischievous bartender. –DM
December 10, 2009 Comments Off on The Pereira-Reavey collaboration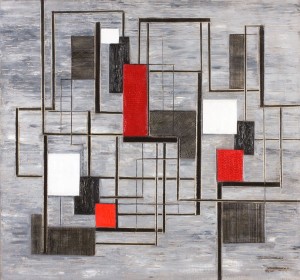 Three White Squares, a 1940 Pereira oil painting, was on exhibit at The D. Wigmore Fine Art Inc., 730 Fifth Avenue, New York City, in an exhibition called Explorations in Black and White: The 1930s through the 1960s. This painting has been reproduced frequently and was included in the seminal 1953 Loren MacIver/I. Rice Pereira restrospective at The Whitney Museum. The show continued through December 23, 2009.
December 9, 2009 Comments Off on 1940 Pereira featured at D. Wigmore Fine Art, Inc.