Category —
Libraries
This early (1939) geometric abstraction in the collection of the Metropolitan Museum in Manhattan was executed on the eve of her startling breakthrough to painting on layers of coruscated glass. Her second husband, George Wellington Brown, a naval architect, was influential in interesting her in new materials.
March 9, 2017 Comments Off on Painting on the eve of a breakthrough
Irene Rice Pereira was uncommonly aware of the culture in which she worked, as an index of the correspondence of the cultural critic Parker Tyler at The New York Public Library shows.The archive contains a letter from Pereira written in 1966. It is contained on page 14 of a pdf file.
Tyler was well known as a champion of the avant-garde in film, art and literature. HIs papers and those of his friend, Charles Boltenhouse, a poet and filmmaker, are available for viewing in the Humanities and Social Sciences Library of the main library.
Pereira wrote frequently to tastemakers and other artists, and so her correspondence is likely to be found in a broad spectrum of archival material. – DM
January 17, 2010 Comments Off on Pereira letter to Parker Tyler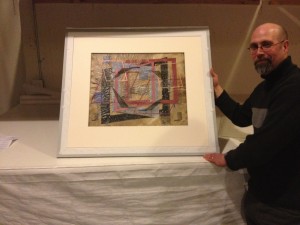 Pereira's Rose Planes, 1945, is one of more than 108,000 images from the AMICA (formerly The Art Museum Image Consortium Library). More than 20 museums participate in this project. Rose Planes is owned by The Walker Art Center in Minneapolis, MN.
December 16, 2009 Comments Off on Online art museum
I. Rice Pereira's third husband, George Reavey, was the first translator into English of Doctor Zhivago, by Boris Pasternak. Reavey, an Irish poet and close friend of the Welsh poet Dylan Thomas, had been Great Britain's cultural attaché in Moscow during World War II.
The Davis Museum and Cultural Center at Welleseley College in Massachusetts is offering a series of podcasts featuring the work of 42 poets and artists, including Thomas, Frank O'Hara, Reavey and the artists Helen Phillips and Willem deKooning.
A portfolio of 21 etchings and poems was published in 1960, 11 years before the death of Pereira. The audio track representing this collaboration features Kristina L. Szilagyi, Class of 200, reading Omega by Reavey. Each print integrates text and image, including a poem in the hand of the author. The Omega print was made by Pereira, an example of close collaboration  between Reavey and Pereira over a long period.
The artist and her husband were present at at the death of Dylan Thomas in November 1953 in Saint Vincent's Hospital in Greenwich Village, only a few blocks from her studio home at 121 West 15th Street in Manhattan.
Reavey, who was fluent in both French and Russian, was a meticulous reader of poetry, his voice reflecting his precisionist inclinations. Pereira's own voice (she was a frequent lecturer) was hushed and musical. She was an even better listener than she was lecturer.
Pereira and Reavey were avid party-givers. Reavey would often break into Russian dances at these parties. Thomas was often their bartender. He was a jolly and mischievous bartender. –DM
December 10, 2009 Comments Off on The Pereira-Reavey collaboration
The Smithsonian Institution has a unique audio interview with Irene Rice Pereira conducted by Arlene Jacobowitz. It was made July 26, 1966, five years before the artist's death in Marbella, Spain. She was living at the time at her long-time studio on the top floor of a brownstone at 121 West 15th Street and was already suffering from the emphysema that was to end her life. This is the record number of this American Archives of Art interview is (DSI-AAA)11367. The Brooklyn Museum of Art also conducted a Pereira interview between 1965 and 1968. Throughout most of the artist's career this Chelsea neighborhood just west of Sixth Avenue was a rather morose area, having the look of abandonment. A huge brick armory in the style of the Park Avenue armory loomed across the street, blocking southern light. Pereira painted in the back of the building, availing herself of north light. Her studio and its furniture were starkly white. Today the armory is gone, replaced by upscale apartments and the entire neighborhood has been transformed into something far more vibrant than Pereira would have remembered. At the time of her death Chelsea had not yet become an enclave of high-end galleries. – DM
November 16, 2009 Comments Off on Rare Pereira audio interview
Women Artists by Margaret Barlow (Rizzoli, 2008, 328 pp) offers an insightful appreciation of Pereira's career and a color plate of the rarely reproduced What Is Substance?
Ms. Barlow is co-editor of the Woman's Art Journal. The journal is associated with the Institute for Women and Art at Rutgers.
Pereira wrote extensively about the concept of substance and the Bodleian Library at Oxford University, UK, has twelve volumes of Pereira notes on the subject.
Women's Arts Journal.
April 14, 2009 Comments Off on Women Artists
The Pereira archive at the Schlesinger Library, Radcliffe Institute, Harvard University, is receiving a significant addition of documents and photographs.
Djelloul Marbrook, the artist's nephew, recently discovered two boxes of papers and photographs overlooked in his initial donation of the Pereira papers to the Schlesinger.
The original papers were given to the Schlesinger after the artist's death in 1971 and subsequently Mr. Herrick Jackson made a grant to the library to pay for organizing the archive. The library is located in Cambridge, Massachusetts.
Ms. Kathryn Allamong Jacob, Schlesinger curator of manuscripts, said, (We are excited at the prospect of seeing this wonderful collection grow.)
The artist's personal library resides at the National Museum for Women in the Arts in Washington, DC.
This is the Schlesinger Library's official description of its Pereira holdings:
Author : Pereira, I. Rice (Irene Rice), 1902-1971
Title : Papers, 1929-1976 (inclusive)
Finding aids : Unpublished finding aid.
Description : 10 linear ft.
History notes : Abstract painter, poet, and philosopher, Pereira was a major figure in the art world from 1930. She worked with the WPA Federal Art Project in New York, 1935-1939; in the 1940s she experimented with new media (glass, plexiglass, and plastic) of the constructivist school; and in the 1950s she returned to paint and canvas. She published numerous books on aesthetics and the philosophy of art. For further biographical information, see Notable American Women: The Modern Period (1980).
Summary : Correspondence, manuscripts of her writings, notebooks on philosophy, articles, poems, painting inventories, photos, both personal and of art work, exhibition catalogs, financial records, grant applications, and printed material pertain to Pereira's interests and career.
Restrictions : At least one location has information and/or restrictions on access. Click on the holdings link(s) for specific information.
Notes : Portions of the collection are available on microfilm at the Archives of American Art.
Cite as : I. Rice Pereira Papers. Schlesinger Library, Radcliffe Institute, Harvard university.
January 10, 2007 1 Comment