Category —
Art history
This early (1939) geometric abstraction in the collection of the Metropolitan Museum in Manhattan was executed on the eve of her startling breakthrough to painting on layers of coruscated glass. Her second husband, George Wellington Brown, a naval architect, was influential in interesting her in new materials.
March 9, 2017 Comments Off on Painting on the eve of a breakthrough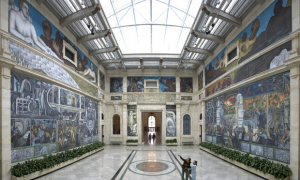 Mid-Century Modernism: Origins and Evolution, a lecture scheduled by the Detroit Institute of Arts at 6:30April 27th, will examine the work of Irene Rice Pereira and several of her peers. By 1955 many American artists, architects, and designers broke free of European precedents and developed distinctively American forms of modernism. Independent curator Susan Larsen looks at mid-twentieth-century painters, showing the ways in which they drew on the progressive political ideals of the 1930s, with a focus on artists represented in the DIA's collection, including Josef Albers, Pereira, Mark Rothko, and Vaclav Vytlacil. Pereira's 1950 oil painting, Bright Beyond, will be featured. The presentation is sponsored by the Associates of the American Wing.
January 13, 2011 Comments Off on Pereira and peers at Detroit Institute
February 3, 2010 Comments Off on Parchment painting in Newark show
Work by Irene Rice Pereira was included in Body, Line, Motion: Selections from the Permanent Collection at the Samuel Dorsky Museum in New Paltz, New York from Jan. 10 to Apr. 11, 2010. The same day the artist was featured in an exhibition in Manhattan at the new Wendt Gallery in the Fuller Bulding at 57th Street and Madison Avenue.The Dorsky exhibition included works depicting human and animal forms that emphasize movement, dance, and ritualistic activity. It was curated by Amy Lipton.
Work by Irene Rice Pereira was included in "Body, Line, Motion: Selections from the Permanent Collection" at the Samuel Dorsky Museum  at the SUNY campus in New Paltz, New York, from Jan. 10 to Apr. 11, 2010. The exhibition, curated by Amy lipton, included works depicting human and animal forms that emphasize movement, dance, and ritualistic activity.
January 30, 2010 Comments Off on Pereira in Dorsky Exhibition
Irene Rice Pereira was uncommonly aware of the culture in which she worked, as an index of the correspondence of the cultural critic Parker Tyler at The New York Public Library shows.The archive contains a letter from Pereira written in 1966. It is contained on page 14 of a pdf file.
Tyler was well known as a champion of the avant-garde in film, art and literature. HIs papers and those of his friend, Charles Boltenhouse, a poet and filmmaker, are available for viewing in the Humanities and Social Sciences Library of the main library.
Pereira wrote frequently to tastemakers and other artists, and so her correspondence is likely to be found in a broad spectrum of archival material. – DM
January 17, 2010 Comments Off on Pereira letter to Parker Tyler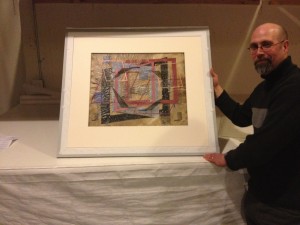 Pereira's Rose Planes, 1945, is one of more than 108,000 images from the AMICA (formerly The Art Museum Image Consortium Library). More than 20 museums participate in this project. Rose Planes is owned by The Walker Art Center in Minneapolis, MN.
December 16, 2009 Comments Off on Online art museum
I. Rice Pereira's third husband, George Reavey, was the first translator into English of Doctor Zhivago, by Boris Pasternak. Reavey, an Irish poet and close friend of the Welsh poet Dylan Thomas, had been Great Britain's cultural attaché in Moscow during World War II.
The Davis Museum and Cultural Center at Welleseley College in Massachusetts is offering a series of podcasts featuring the work of 42 poets and artists, including Thomas, Frank O'Hara, Reavey and the artists Helen Phillips and Willem deKooning.
A portfolio of 21 etchings and poems was published in 1960, 11 years before the death of Pereira. The audio track representing this collaboration features Kristina L. Szilagyi, Class of 200, reading Omega by Reavey. Each print integrates text and image, including a poem in the hand of the author. The Omega print was made by Pereira, an example of close collaboration  between Reavey and Pereira over a long period.
The artist and her husband were present at at the death of Dylan Thomas in November 1953 in Saint Vincent's Hospital in Greenwich Village, only a few blocks from her studio home at 121 West 15th Street in Manhattan.
Reavey, who was fluent in both French and Russian, was a meticulous reader of poetry, his voice reflecting his precisionist inclinations. Pereira's own voice (she was a frequent lecturer) was hushed and musical. She was an even better listener than she was lecturer.
Pereira and Reavey were avid party-givers. Reavey would often break into Russian dances at these parties. Thomas was often their bartender. He was a jolly and mischievous bartender. –DM
December 10, 2009 Comments Off on The Pereira-Reavey collaboration
The Smithsonian Institution has a unique audio interview with Irene Rice Pereira conducted by Arlene Jacobowitz. It was made July 26, 1966, five years before the artist's death in Marbella, Spain. She was living at the time at her long-time studio on the top floor of a brownstone at 121 West 15th Street and was already suffering from the emphysema that was to end her life. This is the record number of this American Archives of Art interview is (DSI-AAA)11367. The Brooklyn Museum of Art also conducted a Pereira interview between 1965 and 1968. Throughout most of the artist's career this Chelsea neighborhood just west of Sixth Avenue was a rather morose area, having the look of abandonment. A huge brick armory in the style of the Park Avenue armory loomed across the street, blocking southern light. Pereira painted in the back of the building, availing herself of north light. Her studio and its furniture were starkly white. Today the armory is gone, replaced by upscale apartments and the entire neighborhood has been transformed into something far more vibrant than Pereira would have remembered. At the time of her death Chelsea had not yet become an enclave of high-end galleries. – DM
November 16, 2009 Comments Off on Rare Pereira audio interview
Women Artists by Margaret Barlow (Rizzoli, 2008, 328 pp) offers an insightful appreciation of Pereira's career and a color plate of the rarely reproduced What Is Substance?
Ms. Barlow is co-editor of the Woman's Art Journal. The journal is associated with the Institute for Women and Art at Rutgers.
Pereira wrote extensively about the concept of substance and the Bodleian Library at Oxford University, UK, has twelve volumes of Pereira notes on the subject.
Women's Arts Journal.
April 14, 2009 Comments Off on Women Artists
Jim Burns, the English poet, is a scholar of the Beat and Jazz eras. He is for this reason of interest to Irene Rice Pereira researchers. Pereira lived during her most creative years on Fifteenth Street just west of Sixth Avenue in Chelsea, the neighborhood just north of Greenwich Village where so much of those eras were lived.
(Because an imposing armory blocked her view from the front of her third floor flat, she painted in the rear where she could take advantage of north light).

Burns collects books about those formative times, and, as it turns out, a number of them refer to Pereira's work. He has generously provided a list of such works in his personal library:
– Advancing American Art: Politics and Cultural Confrontation in Mid-Century by Taylor D. Littleton and Maltby Sykes, University of Alabama Press, 2005.

– Jackson Pollock: A Biography by Deborah Solomon, Cooper Square Press, 2001.
– Clement Greenberg: A Life by Florence Rubenfeld, Scriber, 1997.

– Surrealism in Exile and the Beginnings of the New York School by Martica Sawin, MIT Press, 1995.
– Abstract Expressionist Painting in America by William C. Seitz, Harvard, 1983.
– Most of the references are single ones, Burns says, thought the first book, Advancing American Art, has more details and reproduces her painting, Composition (1945), which was included in the exhibition, Advancing American Art, which was scheduled to tour in 1946-47 but was withdrawn after being attacked by some politicians and right-wing journalists.
Burns's list prompted a recollection by Djelloul Marbrook, the artist's  nephew. In 1963, he recalled, Pereira took part in picketing the Museum of Modern Art with other artists and writers. One of their complaints was that the museum had senabled Abstract Expressionism to steamroller other developments in American art.
Pereira was particularly articulate and passionate on this score, telling the BBC, which covered the event, that Abstract Expressionism had introduced a European angst to an exuberant American art scene. This remark was to prove problematical for her career, because it was misinterpreted in some quarters as an anti-Semitic sentiment, since many of the Abstract Expressionist painters were Jewish and had immigrated from Europe. Marbrook says this accusation stunned Pereira. She had meant simply that a more optimistic vein in American art had been shortchanged by the attention then being given Abstract Expressionism. The incident earned her important enemies.
Pereira participated in the life of Greenwich Village in the 1930s, 40s and 50s. Marbrook remembers her sending him with some money for the hard-luck poet Maxwell Bodenheim. Pereira herself experienced hard times, but her  first inclination upon selling a painting and after paying her rent was to share some of her money with a fellow artist or poet.
The title on Surrealism struck another chord in Marbrook's mind. His mother, the artist Juanita Guccione, Pereira's younger sister, had been involved with the Surrealists in exile in New York City. She had done art work for their newspaper, Pour La Victoire. Both women studied with Hans Hofmann in Manhattan and Provincetown, MA.
Burns is the author of As Good a Reason As Any, Redbeck Press, UK, 1999;
Confessions of an Old Believer, Redbeck Press, 1996; Cool Kerouac, Limited and numbered edition, The Beat Scene Press, UK, 2008; What I Said, Eyelet Books, UK, 2008; and other books of poems, essays and stories.
September 2, 2008 Comments Off on Pereira in the Beat and Jazz eras